Thank fatha, don't forget to post this review on Amazon as well.
Neca makes great figures. There 18″ figures are bad ass! I have a Captain Jack and a Hellboy. If the Regan sells enough, hopefully they will make one of her too. I want one in full Demon form though!
Just found out there is a "bloody variant of the Regan Spiderwalk figure….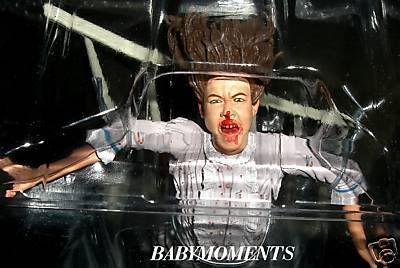 I have really always hated the blood in the spider-walk scene. I thought they just used CGI for that part of the shot but appearntly they shot two different shots for that. The original is much better and follows the book…
Good point! He stuck to the book as much as possible. That's why I thought it was cgi'd.
That scene makes no sense what so ever.
For any lurkers this is the original and fairly close to the book.
http://www.youtube.com/watch?v=Av4VVFgFJlA
I think it was Justin that said he thought it was an alternate take. It ruined it for me too.
I've been asking forever if the scene with the blood was either done in 2000, or if it was from the original film. It looked too CGI'ed. You can see they sped it up. Whether if that's how the orinal footage was intended, I don't know. The blood looks too clear. IMO, it just doesn't work.
They obviously released the other tongue spiderwalk scene to the media beforehand to throw the audience off as to what to expect when they watched the scene in the theaters.
For starters I want to say that they've been adding CGI blood to film for many, many years and it does not look fake. This leads me to think they kept blood from the original that was faked another way.
Second I don't at all like the placement of the spiderwalk in the film. I know it happens according to the book but it just isn't a good spot for it in the film. If I were the director and wanted to use the scene I'd had inserted it as a dream sequence for Chris O'Neil. Anyone else think it would had worked well to have Chris waking up to a nightmare of her own daughter near the beginning of the scene, perhaps when she was first introduced?
I disagree that it was CGIed for two reasons. 1, i have read somewhere about the scene (back when the film was first shot ) getting kinda bloody-it may have been in Kermode's book- so that leads me to belive that they DID shoot two versions. Not only that but Freidken himslef mentions finding an alternate take in the unused footage that he had forgotten about. Also, if you watch it very closely, the double has the blood in her mouth the whole trip down the stairs…you can see in the look in her face that its a challenge keeping it in her mouth all the way to the bottom of the steps…to me her expression from the top to the bottom of the stairs is one of someone with a mouthful of fake blood. Just my two cents…
Related news:
Fabulous styles of elegant women clothes 2018
Foto winter fashion trends for women 2018
Rubber band bracelet fishtail pattern
Дизайн спальни обои фото 2018
Short curly hairstyle 2018
Diy shorts tutorial 2018
Hipster wallpaper for iphone tumblr 2018
ШОКИРУЮЩИЕ НОВОСТИ